Significant Info
---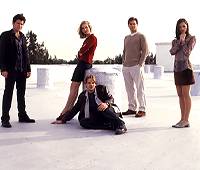 Premiered Wednesday, March 11, 1998
Airs Wednesdays, 9-10pm Eastern on FOX
---

PRODUCED BY: Columbia Pictures Television
---

CREATED BY: Chris Keyser and Amy Lippman
---

EXECUTIVE PRODUCERS: Chris Keyser and Amy Lippman
---

PRODUCER: Ken Topolsky




The Show


The creative team behind the critically acclaimed award-winning drama series Party of Five introduces a new ensemble cast in Significant Others, a one-hour drama about a group of friends in their mid-twenties living in Los Angeles.

Campbell (Eion Bailey), Nell (Jennifer Garner), Henry (Scott Bairstow), Ben (Michael Weatherly) and Jane (Elizabeth Mitchell) are at a point in their lives where every decision, whether it is whimsical or planned, counts, and the choices they make about relationships and business will set the course for the rest of their lives.

Though linked by years of friendship, Campbell, Nell and Henry couldn't be more different in their approach to adult life. Campbell is the dreamer, the one who bounces from one scheme to the next; Nell fears commitment in all aspects of her life; and Henry is a writer who, after tasting the spoils of success in the past, craves it even more, but until inspiration kicks in, makes his living writing porn for a website. Their relationship is challenged and their future bond put to the test when Campbell discovers that Nell and Henry, the two people he thought he knew better than anyone else in his life, have been secretly seeing each other.

Campbell also has to contend with Ben, his older brother, who is trying to repair his reputation as a ladies' man by settling down with Jane, Campbell's ex-girifriend. Rounding out the cast of series regulars is Henry's boss Charlotte (Gigi Rice).


The Producers


Chris Keyser and Amy Lippman are the executive producers and creators.
Before "Party of Five," Keyser and Lippman served as co-executive producers for the television series "Sisters," where they were writers for three years.
Keyser was in his last year of law school at Harvard University when he met Lippman, then an undergraduate. After graduating in 1985, Keyser and Lippman moved to New York to pursue writing careers.
In 1988, Keyser and Lippman teamed up as writing partners and moved to Los Angeles. With Keyser's legal background, the two quickly became recognized as television writers who could handle legal storylines. They have written for several series including "L.A. Law," "Equal Justice" and "Eddie Dodd."
Keyser, who was born and raised on Long Island, NY, resides in Los Angeles with his wife and two children. Raised in San Francisco and Los Angeles, Lippman is also married and resides in Los Angeles.
---

Back to Significant Others home page